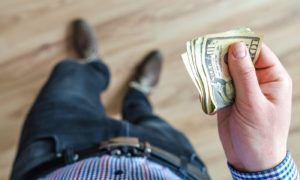 The PayScale Index, which measures the change in wages for employed U.S. workers, recently updated. The latest data shows that nominal wages grew 2.5% year over year for Q4 2019. That's a substantial improvement over the Q3 update, which showed 0.6% year-over-year wage growth for the quarter.
However, if you're not feeling the impact of that growth in your paycheck, you're not alone. Wage growth is never even distributed across all job types, industries and metro areas. Further, when you take inflation into account, the value of workers' pay has declined 9% since 2006.
"Over the last 40 years, wage growth for typical American workers has been extraordinarily weak," write Ryan Nunn and Jay Shambaugh at The Brookings Institution. "The typical worker has certainly gained some ground—especially over the last 25 years—and different inflation adjustments can make those gains appear somewhat larger. But by any measure, wages at the middle have grown more slowly than at the top and more slowly than the economy overall."
Nunn and Shambaugh note, however, that wage growth at the lower end of the earnings spectrum has improved over the past 10 years, in part due to minimum wage increases at the state and local level.
Where Wages Are Growing
PayScale looked at the 32 largest metro areas in the U.S. and ranked them according to wage growth for Q4 2019. The metros with the highest wage growth included:
What do these cities have in common? Unsurprisingly, most have a high concentration of jobs in industries like health care and tech, which have also experienced high wage growth in recent years. The top industries for wage growth last quarter included:
For more information on wage growth across job categories and company sizes, as well as data insights on wage growth in Canada, see The PayScale Index.
Curious about how your pay stacks up? Take the PayScale Salary Survey and get your free salary report in minutes.
Tell Us What You Think
What's your take on this data? We want to hear from you. Share your thoughts in the comments or join the conversation on Twitter.