Looking for research? View PayScale's Research and Strategy Guide on How to Set Pay for Remote Workers
---
The majority of remote workers like the arrangement, according to the latest State of Remote Work survey from Buffer and AngelList. The annual survey, now in its third year, also shows that 98% of remote workers want to continue working from home in the future.
"There's one statistic that remains unequivocal each year: remote workers almost unanimously want to continue to work remotely (at least for some of the time) for the rest of their careers," write the report's authors.
Ninety-seven percent of respondents said that they'd recommend working remotely to someone else.
The State of Remote Work: 6 Things to Know
1. Very Few Telecommuters Want to REturn to the Office
Only 2% of survey respondents said that they didn't want to continue working remotely for the rest of their career. The rest (98%) said that they hoped to work from home at least part of the time in the future.
In addition, most remote workers were happy with the amount of time they spent working from home. Seventy percent wanted to keep the status quo, while 19% would prefer to telecommute more often and 11% would like to spend more time at the office.
2. Most remote workers primarily work from home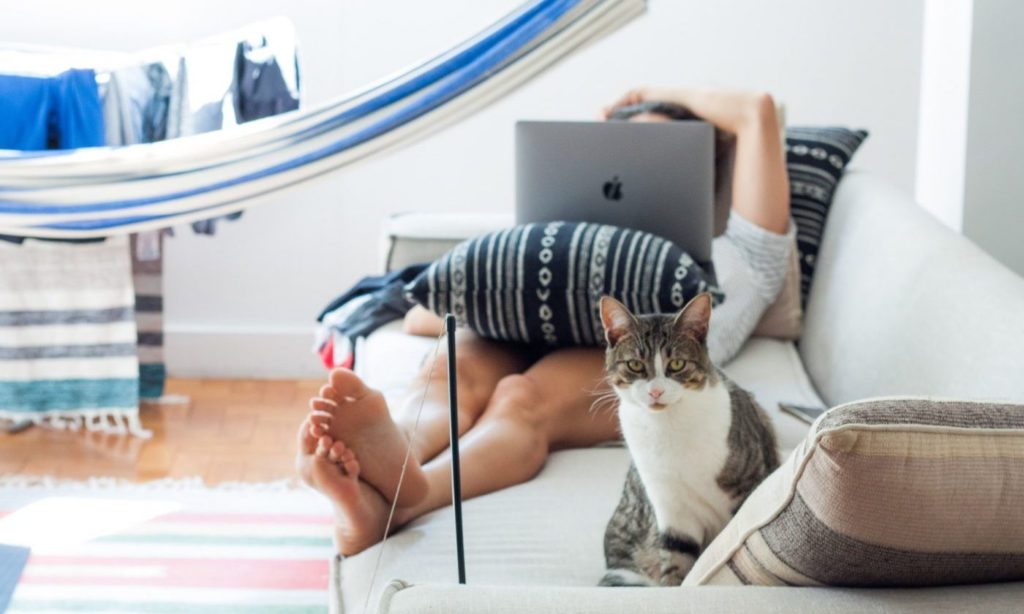 The idea that telecommuting allows you to work from anywhere is a great idea. But, in practice, it doesn't always pan out that way.
Most remote workers (80%) say that they primarily work from home. Only 7% said they worked primarily from coworking spaces. (Although, it's worth noting that the modern coworking space has only been around for about 25 years. Plus, coworking spaces are more common in major cities and areas with large populations of creatives, so not every remote worker has the option available.) Three percent of the remote workers surveyed said they worked mainly from coffee shops. And, only 0.5% said they did most of their work in libraries.
3. The most common struggles: Collaboration and Loneliness
The Buffer survey found the two biggest struggles for remote workers were "Difficulties with collaboration and communication" (20%) and "Loneliness" (20%). This mirrors of the findings of other reports. For example a Remote.co survey found that:
…unplugging after work hours is the biggest pain point they encounter when working in their virtual environment (40%).

….other challenges for remote workers include dealing with non-work distractions (32%), developing strong relationships with coworkers (25%), loneliness (23%), troubleshooting technology problems (21%), and working across different time zones (19%).
It's easy to understand why problems might arise around communication for remote workers. Keeping a different schedule from the rest of the team, and being in a different space, can lead to delays and time-management challenges. However, it's worth remembering that many workers struggle with communication in their jobs. It's definitely not a problem unique to those working a flexible arrangement.
"The challenges remain the same: ineffective communication," says Frank Weishaupt, CEO of Owl Labs, per the Buffer report. "As an employer, it's critical to maintain a community for all workers despite their physical location and require manager training specific to remote workers as well as provide the latest technological advancements in digital collaboration tools across the organization."
4. Remote workers love the flexibility
Survey respondents were also asked to rank the biggest benefits they've experienced as a result of working remotely. The two most popular answers involved flexibility. The most popular answer, coming in with 32% of the vote was "ability to have a flexible schedule." And, 26% said that "flexibility to work from any location" was the biggest perk.
5. There's a lot to be gained from losing the commute
Twenty-one percent of respondents said that "not having to commute" was the biggest benefit they'd experienced, making it the third most popular answer. There are some real financial savings associated with this as well. A 2018 report from FlexJobs found that the average remote worker saves about $4,000 annually when they work remotely. A lot of that is attributed to the commute. ($686 savings on gasoline per year and $767 on car maintenance and repairs.) Workers also saved money on dry cleaning, laundry, lunches and coffee.
Plus, not having to commute saves time, too. The impact varies dramatically by location. For example, remote workers in San Francisco save about 294 hours annually because of giving up their commutes. And, New Yorkers save about 343 hours each year.
6. Remote workers are swallowing a lot of the costs
Working remotely saves money in some ways. But, there are costs associated with it, too. And, according to the results of the Buffer survey, most remote workers are responsible for covering them. As a general rule, companies aren't jumping in to pick up the tab.
When asked if their company covered the cost of a coworking membership, 72% of respondents said that they did not. Four out of five, 80%, said their employer doesn't cover the cost of their home internet. Additionally, 87% said that their company doesn't cover the cost of drinks or food at coffee shops. And, 72% said their employer doesn't pay for their cell phone.
Why Some Employers Are Slow to Adopt Remote Work Arrangements
Unfortunately, remote work comes with a fair share of challenges to employers. Here are a few of the most common struggles:
Oversight. Some supervisors may be uncomfortable managing a team that works remotely. Successful telecommuters need to be able to work without a lot of supervision. This may be a challenging transition for some leaders, who may be used to knowing what their team is up to at any given moment. This is probably part of the reason why remote workers tend to be older and further along in their careers than those in more traditional arrangements. These folks have established themselves more thoroughly and have earned the trust of their employers. It makes sense to only offer the option when employees have demonstrated their capabilities.
Communication. It's not easy to coordinate projects and teams when workers are running on different schedules and working in different locations. Navigating this obstacle requires some solid planning and a healthy dose of flexibility. Managing a team with remote workers is more complicated than having everyone in one place. But, as with so many things, it tends to get easier with practice and experience.
Distance bias. One of the biggest potential downsides of remote work relates to something called distance bias. This is the tendency to place lesser value or importance on people that are further away. It's easier to notice the good qualities of the team members managers see everyday. And, it's hard not to forget about the people working remotely. That can make it more challenging to get a raise or promotion if you work remotely most of the time.
Employees may also find that their coworkers seem to forget about them when they're not at the office.
"Our latest research shows that remote workers, and the managers tasked with keeping them focused and engaged, face inherent challenges that cannot be ignored," write Joseph Grenny and David Maxfield at Harvard Business Review.
They continue:
We polled 1,153 employees, and 52% said they work, at least some of the time, from their home office. And when they do, many feel their colleagues don't treat them equally. Remote employees are more likely to report feeling that colleagues mistreat them and leave them out. Specifically, they worry that coworkers say bad things behind their backs, make changes to projects without telling them in advance, lobby against them, and don't fight for their priorities.
Why Your Employer Should Get on Board

Despite the challenges, remote work is good for companies as well as workers. Here are some of the reasons your employer should let you work from home, despite the challenges:
It saves money. Offering remote work options saves companies money in all kinds of ways. First of all, if office buildings are open less often (or if they can be reduced in size and number) costs go down. Also, remote workers tend to be healthier and take fewer days off. It also cuts down on travel expenses.
It helps to attract and retain top talent. Remote work is extremely popular these days. Workers want flexibility more than many employers realize. In fact, 69% say it's one of the most important factors they consider when evaluating a job prospect. Offering these kinds of options helps companies to attract and retain top talent and move toward becoming an employer of choice.
Workers are happier, more productive and more creative. "The research has generally shown that for most outcomes, remote work leads to small but tangible benefits," says I/O psychologist Bradford Bell, PhD, director of the Center for Advanced Human Resource Studies (CAHRS) at Cornell University, in an interview with the American Psychological Association. "Employees who telecommute tend to be slightly more satisfied, and their performance tends to be the same or a little higher." The whole company benefits when workers enjoy their jobs more and are more productive and creative.
Tell Us What You Think
Would you like to work remotely more or less often in the future? We want to hear from you! Leave a comment or join the discussion on Twitter.